Manufactured onsite in our Melbourne warehouse, Local Shed Solutions work in partnership with you throughout every design and build – advice, quote, design, permits, manufacture, delivery, trades and installation.
At Local Shed Solutions, you get:
Australian
Made Steel
Top quality, galvanised RHS steel. Strong, durable and built to last a lifetime.
Fully customisable to your needs
All the flexibility, security and optional extras you need.
COLOURBOND® cladding
Select your choice of durable COLOURBOND® cladding with your choice of colours.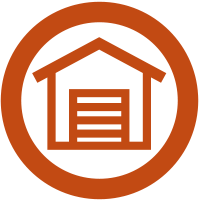 Fully manufactured sheds
Choose from our existing range of designs to suit your storage needs.
Delivery and installation
Our experienced network will organise and manage your project with ease.
RHS and Universal Beams
A strong, durable and structurally sound superior product. Compliant to all Australian standards.
Multiple footings options (no slab required)
The choice of natural floor, concrete or a combination of both, gives you the flexibility to incorporate heavy machinery.
Site specific engineering
Every job is specifically engineered and manufactured to suit your individual requirements.
Category 2 Wind Rating
Local Shed Solutions provide a superior product to withstand the Australian climate.
WHY CHOOSE LOCAL SHED SOLUTIONS FOR YOUR AUSTRALIA-MADE SHED - BENEFIT SCORE CHART